One stop shop for Landcare members…
Landcare groups need to spend less time on admin and more time helping the environment, this portal helps them do this.
Upon the closure of GippsLandcare in 2020, Landcare Networks in West Gippsland voted to use any of the leftover funds to develop a membership portal. This portal was intended to be an efficient way of assisting Landcare groups to overcome the time-consuming burden of managing members.
We managed a tender for the project software development and a local software designer, Olivitek Software from Dumbalk has designed the portal to suit the needs of Landcare groups in our region.
Landcare Networks stated they wanted to the portal to be easy to use, safe and secure, accessible to both groups and networks, helpful for insurance reporting and communication.
The portal was launched in February, 2022 and is available free of charge for all Landcare groups and networks in West Gippsland and is continually being updated with new features to improve its capabilities.
Member benefits:
Sign up to a Landcare group
Change your personal details
Pay your membership fee.
Landcare group benefits:
Collect member payments automatically, via credit or debit card as well as manual methods
Keep membership information in a secure manner
Access real time information of the number of financial members
Sign up members and reset passwords
The ability to download a complete member list, including contact details.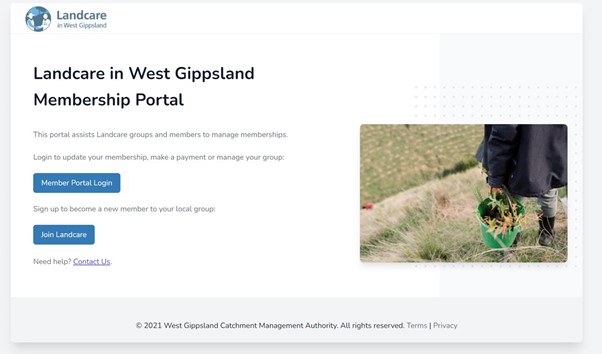 Future benefits we are working on include automatic payment reminder emails to members.
Helpful information:
We have created some resources that you may find helpful when using the portal. All of the links to these documents can be found below.
If you are a Landcare network of group administrator and you would like to know more about using the Portal to manage your group, please email rlc@wgcma.vic.gov.au to find out more.