Published: 19 December 2022
Gippslandscapes is an occasional podcast, highlighting the many people doing great things caring for the environment and improving the landscapes of our region. Whether they are farmers, "townies" involved in Landcare, or just someone with a passion to make the region a better place.
Each episode will feature one person or group and they are available by clicking on the links below and are searchable wherever you get your podcasts.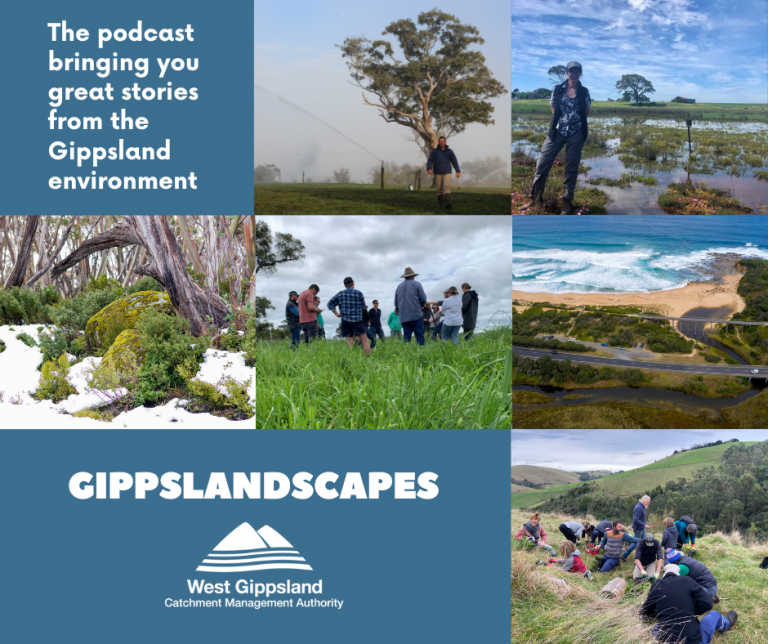 Episode 64: Adapting landscapes to meet demands of climate change
Episode 63: Award winning community wetlands – Heyfield
Episode 62: Happy birthday to us! 25 years of the WGCMA
Episode 61: The regeneration of the Callignee Landcare Group
Episode 60: Celebrating Rural Women
Episode 59: Duncan Fraser – Bell Bird Corner and a life in conservation
Episode 58: Gippsland Intrepid – Landcare for a new generation
Episode 57: Climate farming with Sandra Jefford
Episode 56: Reducing our own personal greenhouse footprint
Episode 55: Anne Davie OAM – a life in Landcare
Episode 54: Water is life! – Managing water so farmers, the environment and Traditional Owners get a share.
Episode 53: Meeting the demands of climate change and customer expectations while managing a sustainable beef business
Episode 52: Meeting Anna and Dani at the Bass Coast Landcare Indigenous Nursery.
Episode 51: Wading through the waters to find what's happening below.
Episode 50: Restoring the Agnes River – a 20 year project with an end in sight.
Episode 49: Checking out the workhorses of the environment – Wetlands. As we celebrate World Wetlands Day on Feb 2.